Other Brands
Suka Pinakurat
Cebu Grace Food Products
Cheding's Peanuts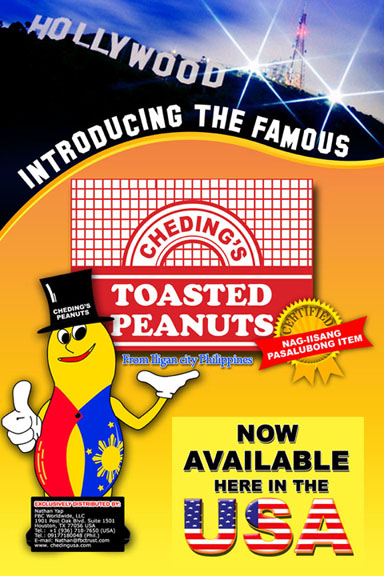 CHEDING'S PEANUTS, INC. FOOD PROCESSING
Cheding's Peanuts store has been in Iligan City for decades. Tourists and travelers flock the store for its numerous delicacies to take home to family and friends. Cheding's Peanuts peak season is on City Fiesta time (September), Christmas Season and the summer months. These packs come in different sizes, 1 kilo, ½ kilo, 370 grams, 50 grams, ¼ kilo and 200 grams foil pack. Cheding's bestseller is ¼ kilo pack at P42.00.

For forty-seven (47) years, the business remains steadfast in producing quality peanut products for the Filipinos here and abroad as well as with the other nationalities who could taste the peanuts.

A pinch of love like salt, and keeping faith with tradition made for the success of Cheding's Peanuts, THE ORIGINAL ILIGAN' S PRIDE, "NAG-IISANG PASALUBONG NG ILIGAN".